Ocular Max Perfection Series Kojin (Limited Edition) is the latest offering from the creators that brought you the Sphinx and Backdraft figures.
Now you can own this very limited production of the never before released Kojin Figure. Kojin comes with an all new minibot friend (Nightbeam), weapons, accessories and features a beautiful paint scheme to give nostalgic fans a perfect addition to their collection of nostalgia robots.
Produced with high-end designed abs plastic and die cast, Kojin along with the rest of the Ocular Max Perfection Series is made with collectors in mind. Highly detailed and remarkable engineering to change from robot mode to vehicle mode has been the hallmark of this series. Everything from paint to chrome application and down to the rubber tires accentuate the high attention to detail on this beautiful figure.
This is your chance to be part of a very special project – the first crowdfunded project for Ocular Max. This limited production is made to order and structured to give you the fans the opportunity to have some fun. Not only will you have the bragging rights to say you backed this project, you will also be rewarded with extra benefits along the way with the more backers that get on board!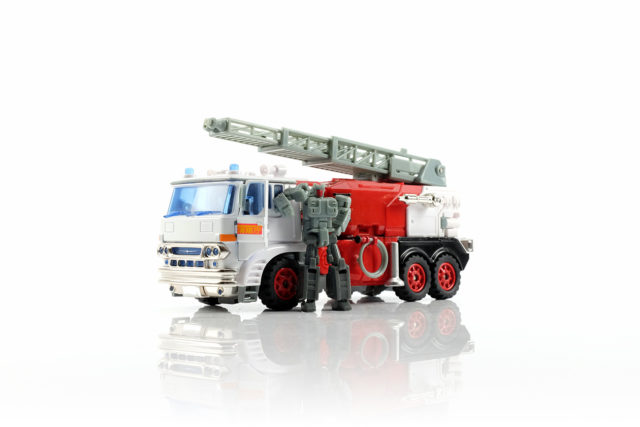 Wait there's more… as successful backers, Ocular Max wants to reward you with more goodies by offering stretch goals to show appreciation for your support. So tell your family, tell your friends, spread the word:
Unlock Stretch Goal 1 – Once the target minimum funding goal for the project is reached, all Full Fledged Backers will automatically get their Kojin Figure discounted to $97.
Unlock Stretch Goal 2 – This goal gives Full Fledged Backers an even deeper discount on their Koji Figure dropping it's cost to $87.
Unlock Stretch Goal 3 – Help us hit 500 purchases of this figure and all backers will receive an additional bonus clear version of Nightbeam!!!
Unlock Final Stretch Goal – The 4th and final stretch goal will earn all Full Fledged Backers free shipping on their figures.
Please Note: Wait List backers will not be eligible for stretch goals.
Stretch Goals
The Project FAQs
Can I purchase more than one figure?
Yes. After you have chosen the backer's level you want, make sure to click on the view cart button at the top of the address forms. From there, you can choose the quantities of figures you would like.
When will this product ship?
This product is estimated to ship in May, 2017. If there are any delays we will let you know by email and on this site.
How much is shipping?
Shipping is $15USD for each figure destined for North America and $15USD for each figure destined for All other countries. If you are buying multiples, it's an additional $5USD per figure.
How do warranties work?
Once you have received your product, you have a period of 6 months to identify and report any issues that your product may have to us by simply reporting your issue along with your order number to customers@ocularmax.com.
How do I get a refund?
This project is a crowdfunding project and the products are made to order. It's a project that  is supported by you and your fellow fans. Out of respect for your peers and the project, please do not pledge towards the project unless you are 100% committed as there will be no refunds after you have committed to this.
What if the minimum funding target is not met?
Like many modern crowdfunded projects such as Kickstarter campaigns if we do not hit our minimum funded amount, the project will not go into production and all pledges will be refunded in full for everyone at the end of the project funding date. We do not keep any funds if the project does not go into production. To see the minimum target for this project, how close we are to funding it and funding due date, you can find it in a dollar amount in the top right hand corner of the page.